上海交通大学与耶鲁大学全球公共卫生政策研究方向双边论坛成功举办
SJTU-Yale Experts Discuss Global Health Policies at Video Forum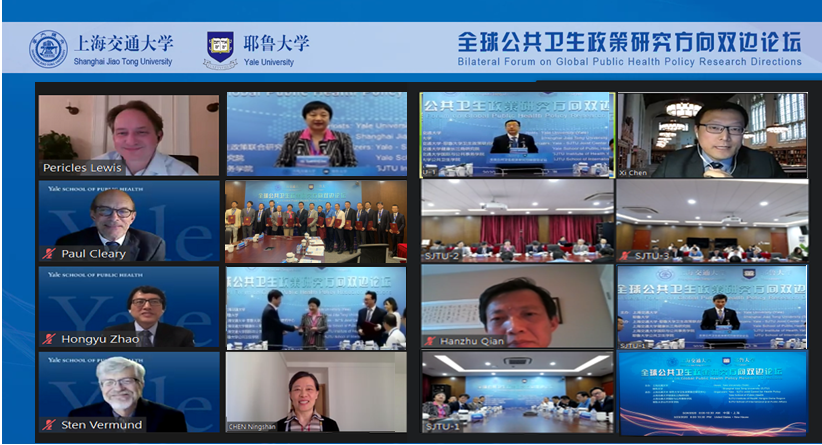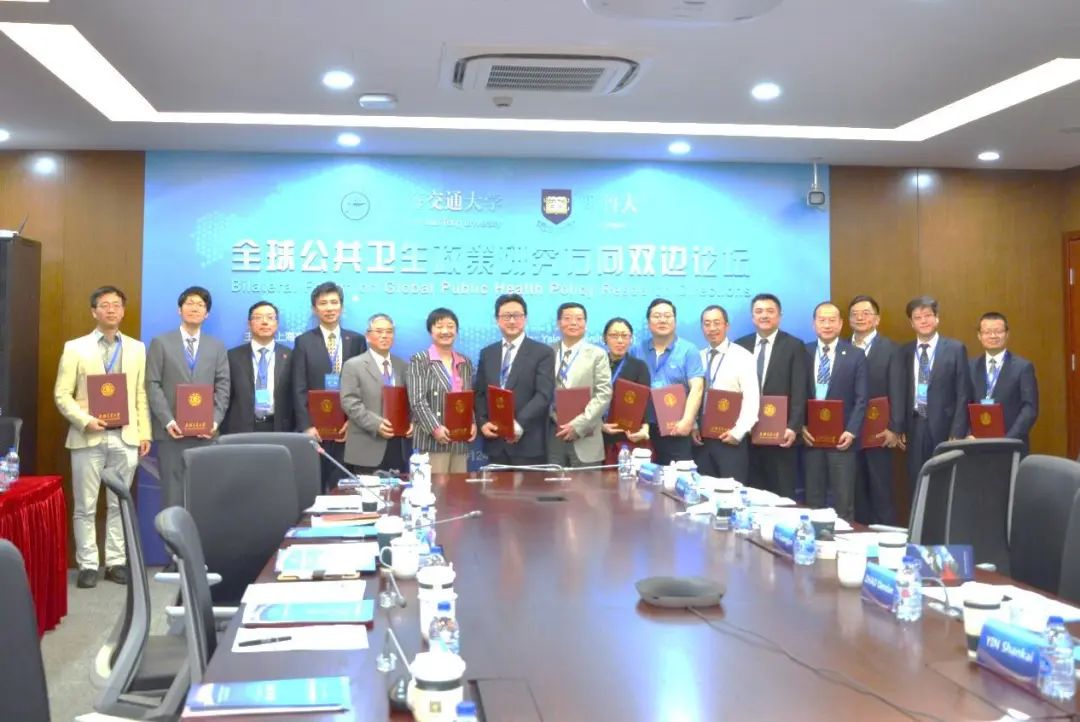 5月24日,上海交通大学与耶鲁大学全球公共卫生政策研究方向双边论坛在上海交通大学徐汇校区举行,来自国家卫健委和耶鲁大学的参会嘉宾通过网络会议系统同步视频参会。
On May 24, the SJTU- Yale Bilateral Forum on Global Public Health Policy Research Directions was successfully held at Xuhui campus, Shanghai Jiao Tong University. Guests from the National Health Commission and Yale University participated the forum through the internet.
本论坛由上海交通大学、耶鲁大学联合主办,上海交通大学-耶鲁大学卫生政策联合研究中心、上海交通大学健康长三角研究院、上海交通大学国际与公共事务学院和耶鲁大学公共卫生学院共同承办。
The forum is hosted by Shanghai Jiao Tong University and Yale University, and organized by SJTU-Yale Joint Center for Health Policy, Yale School of Public Health, SJTU Institute of Health Yangtze River Delta and SJTU School of International and Public Affairs.
以"未来世界的公共卫生体系"为主题的双边论坛由赵宏宇主持,本论坛主要探讨了在新冠肺炎全球大流行的背景下,中、美两国如何相互协调突发公共卫生事件的政策和举措,探索开发出可适应其他国家的公共卫生管理系统,探讨和确定未来可行的研究方向和具体的双边合作项目。
Following the opening ceremony was a panel discussion titled"World Public Health System in the Future" moderated by ZHAO Hongyu. Considering the COVID-19 pandemic, the discussion focused on how best to learn from each other and coordinate policy analyses and initiatives related to public health emergencies in the US and China; to explore the development of a public health management system that can be adapted for use in other countries. The goal of the panel discussion is to explore and identify research directions and specific bilateral cooperation projects.
本次双边论坛通过线上和线下会议结合的方式开展,克服了疫情的影响,汇聚中、美专家于云端,为中美公共卫生政策领域创造了及时沟通的平台,为国际学术交流活动的开展提供了良好的借鉴,也是共同构建人类卫生健康共同体的生动实践。
This bilateral forum was carried out through the combination of online and offline meetings. Overcoming the impact of the epidemic, and bringing together experts from China and the United States via the internet, the forum creates a platform for timely communication in the field of public health policy between China and the United States, and provides a good reference for international academic exchange activities as well as a vivid practice of jointly building a community of shared future for human health.
供稿者:国务学院
日期:2020年5月25日
Contributor: SIPA, SJTU
Date: May 25, 2020